National Commercial Title Services
Serving Your Real Estate Transaction Needs

Responsive Service    Expert Underwriting   Unsurpassed Financial Strength Ratings 
National Experience
Local Expertise
Regardless of the size, complexity or geographic diversity of property in your transactions, National Commercial Title Services (NCTS) has the expertise and national footprint to meet your business needs. Your highly experienced and responsive NCTS team provides the full suite of specialized products and services required to ensure the success of your commercial real estate transactions. You also benefit from our single point of contact, providing you with streamlined delivery of the title insurance and related services you need nationwide, including:
Commercial Title Insurance
Escrow and Settlement Services
National Underwriting Authority 
Energy Title Services
Uniform Commercial Code (UCC) Coverage
§1031 Exchanges
Due Diligence and more
Our Services
National Expertise

National Expertise

Our respected NCTS industry veterans are located from coast-to-coast to deliver accurate and timely transactions through customized commercial services and solutions-oriented underwriting. Our proactive teams are comprised of experienced attorneys, underwriters, closers and other national commercial title professionals who understand the importance and intricacies of each transaction and have the requisite knowledge and expertise to respond to your requirements. Whether simple or complex, our skilled staff handles each transaction swiftly, efficiently and with your specific needs in mind.

Energy Division

Energy Division

Old Republic Title's Energy Division has the expertise to successfully execute land title, title insurance and closing services for your energy project. We offer clients a dedicated team of qualified professionals equipped with practical experience in project development, responsive underwriting and a wealth of knowledge in the energy sector. Backed by unsurpassed financial strength ratings, Old Republic Title is ready to help you close your transactions.

Our energy team can guide you through the complexities of a variety of transactions, including, but not limited to:

Wind farms
Solar farms
Power plants
Multi-site energy portfolios

We provide accurate, conscientious underwriting and closing services for all your transactions. For assistance navigating the unique title insurance requirements of the energy sector, contact us to get started on your project.

 

For additional information, please contact:

Lauren M. Gray  |  lgray@oldrepublictitle.com  |  346-227-1746
Senior Vice President of Old Republic National Title Insurance Company
Manager and Commercial Counsel, National Energy Title Services Division

National Energy Title Services Division
5718 Westheimer Rd., Suite 1700
Houston, TX 77057

UCC Policy

UCC Policy

UCC Insurance is now available from one of the largest commercial title insurers backed by unsurpassed financial strength ratings.

Old Republic Title's UCC Policy insures the attachment, perfection and priority of a Lender's security instrument on a Debtor's non-real estate assets, by insuring the Lender that (a) the Debtor either has ownership rights in the collateral, or (b) the Debtor has a sufficient interest in the collateral that can be transferred to the insured Lender, as collateral for the Loan. Additionally, Lenders can lower transaction costs and accelerate closings by outsourcing the time-consuming, labor intensive UCC related searches and filing tasks to the dedicated UCC underwriting staff at Old Republic Title.

UCC Insurance is well-suited for:

Asset-Based Loans, including Multiple Advance/Revolving Credit Facilities;
Asset Securitizations;
Mezzanine Loans; and
Syndications.

 

For additional information, please contact:

Michael Choy  |  mchoy@oldrepublictitle.com  |  619.446.5643
Senior Vice President of Old Republic National Title Insurance Company
Manager and Underwriter, National Commercial Title Services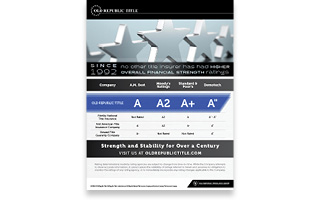 Unsurpassed Financial Strength
Old Republic Title's commercial title insurance is backed by unsurpassed financial strength in the title insurance industry. Since 1992, no other title insurer has had higher overall ratings than Old Republic Title. Through a conservative financial management philosophy, we focus on long-term financial stability so we can continue to honor our commitment to policyholders.
Company Overview
Learn more about Old Republic Title's services, ratings and market share here. Complete the linked contact form to download your copy now.
Old Republic Sustainability Report
At our Company, adaptability and innovation are built on a foundation of responsible stewardship. When Old Republic issues a policy, we are making a promise to our customers. In this inaugural Sustainability Report, we provide a view inside our organization beyond traditional financial disclosure.
View Report
NCTS Locations
Toll Free: 844-678-7353        Online: orncts.com
Boston  |  Chicago   |  City of Industry   |  Hoboken   |  Houston   |  Las Vegas   |  Los Angeles
New York   |  San Diego   |  San Francisco   |  Seattle  |  Tampa
How Can We Help?
NCTS Leadership
Michael Skalka

Executive Vice President, ORNTIC,

President, National Commercial Title Services Division

Tampa

MORE INFO
Mike joined Old Republic National Title Insurance Company in August 2013 as Executive Vice President, ORNTIC; and Director, National Commercial Underwriting and Business Development. In this role, he provides commercial underwriting services to the Company on a national basis, and will grow and develop ORNTIC's national footprint.

Mike got his start in the title and real estate industries over 35 years ago. During those years, he would go on to hold a number of significant legal and management roles within the title industry, including: General Counsel, Chief Legal Officer and President of one of the major national underwriters; as well as playing a prominent role in their international expansion in Canada, the United Kingdom, Eastern Europe and Latin America. Most recently, he served as Executive Vice President, Chief Legal and Legislative Officer for a national electronic registry of mortgage loan servicing rights and ownership for the lending industry.

After graduating with a Bachelor of Arts degree in Political Science from C.W. Post College—Long Island University in Brookville, NY; Mike went on to earn his Juris Doctor from Chicago-Kent College of Law in Chicago, IL. Active in a number of industry organizations, he is a member of the: Illinois Bar Association, New York Bar Association, Virginia Bar Association, American Bar Association, Texas General Counsel Forum, American Corporate Counsel Association and American Land Title Association, where he served on its Board of Governors from 2010 - 2012. Mike also served as President of the New York State Land Title Association from 1992 – 1993, and was a member of its Legal, Legislative and Underwriting Committees.