John Voso, Jr., Senior Vice President, ORNTIC and National and East Central Agency Development, was honored on October 13, 2021, by the American Land Title Association (ALTA) at its national ALTA ONE Annual Convention in New Orleans.
In recognition of his 20 years of dedicated service to the ALTA and his commitment to education and advocacy on behalf of the title industry, he was awarded the inaugural John Voso Jr. Advocacy Award, named in his honor. ​​​​​​​
John has been actively involved with ALTA since 2001, having served on the Congressional Liaisons Committee and as part of the Title Action Network. 
He is a long-standing member of ALTA's Title Industry Political Action Committee (TIPAC), the national PAC that directly represents the interests of the title industry in the U.S. political system. In fact, from 2008 through 2012, he served as Chair of TIPAC, raising awareness for and driving funds to the organization, which he continues to do.
"A consummate sales professional, John's zest for life and enthusiasm for building industry knowledge and lasting professional relationships are unmatched," says Carolyn Monroe, President, Old Republic National Title Holding Company. "We are proud to see him honored as a hero of our industry for his decades of selfless service."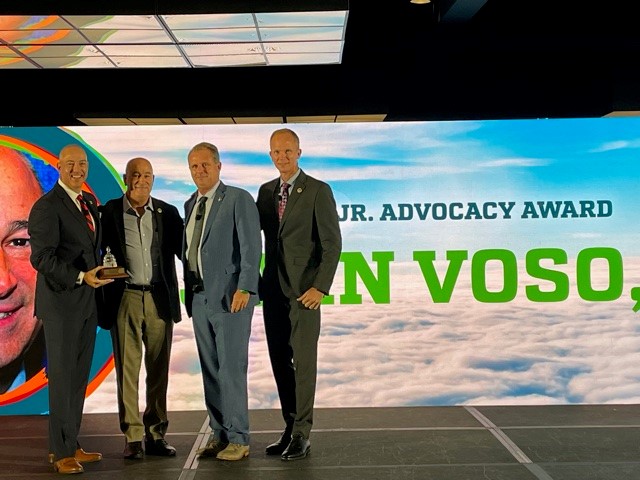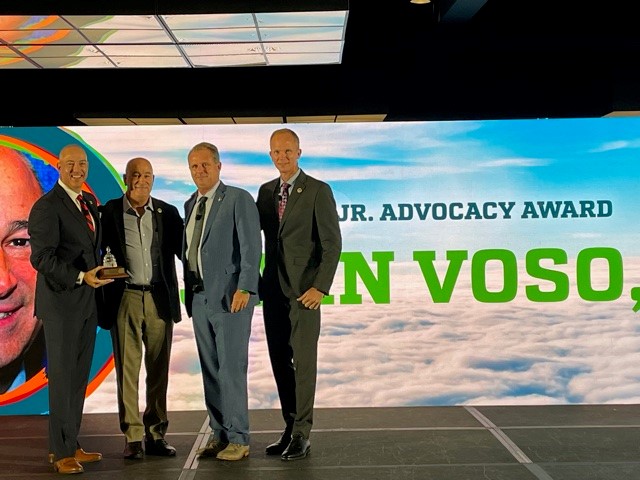 At the 2021 ALTA ONE Convention, John Voso, Jr. (second from left) is awarded the inaugural John Voso Jr. Advocacy Award, named in his honor. Pictured left to right: 2020/2021 ALTA TIPAC Chair David Townsend; 2020/2021 ALTA Congressional Liaisons Committee Chair John Voso, Jr.; 2020/2021 ALTA President Bill Burding; 2020/2021 TIPAC Vice Chair Craig Haskins.


A long-time resident of Ohio, John is an Honorary Life Member and past president of the Ohio Land Title Association, where he has been actively engaged for more than 30 years. Early in his career, he worked as a REALTOR® before joining another large, national title insurance underwriter in 1989. He was a Direct Operations Manager and Agency Manager there before he joined the Old Republic Title family in 2002. Currently, he is in National and East Central Agency Development, based in Old Republic Title's office in Independence, Ohio, and holds the  designations of National Title Professional (NTP) and Ohio Land Title Professional (OLTP).
"When I became involved in title advocacy locally, then nationally, I believed that was where I needed to direct my energy. Today, I am humbled with the award and it being named after me," John shares. "This was accomplished due to the hard work of many dedicated individuals. There is more work to do as the industry advances around the country. The title industry is not satisfied with just having a seat at the table, we are helping to prepare the agenda. My wish is for more title professionals to be involved in this process, advocating and looking out for the future of our industry." 
Not only is John a champion on behalf of the title insurance industry, he is a champion in life. He's an artist, published author, philanthropist, professional bowler and member of the Cleveland Athletic Club Bowling Hall of Fame.
Congratulations to John for this well-deserved award from ALTA! He can be reached at jvoso@oldrepublictitle.com.